Idag har Man Booker-priset (äntligen) presenterat sin långa lista. Det är första gången i prisets långa historia som alla böcker, om de är skrivna på engelska och publiceras i Storbritannien, får delta. Många hade befarat att de nya reglerna skulle medföra en amerikansk invasion, men riktigt så blev det inte. Av de 13 böckerna är fyra skrivna av amerikaner, sex av britter, två av irländare och en av en australiensare.
To Rise Again at a Decent Hour, Joshua Ferris (Viking)
The Narrow Road to the Deep North, Richard Flanagan (Chatto & Windus)
We Are All Completely Beside Ourselves, Karen Joy Fowler (Serpents Tail)
The Blazing World, Siri Hustvedt (Sceptre)
J,  Howard Jacobson (Jonathan Cape)
The Wake, Paul Kingsnorth (Unbound)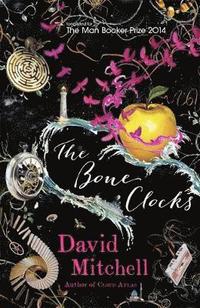 The Bone Clocks, David Mitchell (Sceptre)
The Lives of Others, Neel Mukherjee (Chatto & Windus)
Us, David Nicholls (Hodder & Stoughton)
The Dog, Joseph O'Neill (Fourth Estate)
Orfeo, Richard Powers (Atlantic Books)
How to be Both, Ali Smith (Hamish Hamilton)
History of the Rain, Niall Williams (Bloomsbury)
Recension Första kapitlet Äldre intervju Köp
Howard Jacobson har tidigare vunnit priset och Ali Smith och David Mitchell har tagit sin in på den korta listan. Amerikanerna på årets långa lista är: Richard Powers, Siri Hustvedt, Joshua Ferris and Karen Joy Fowler.
Juryn kommer att samlas igen och meddelar den 9 september vilka sex titlar som tar sig vidare till den korta listan. Vinnare av £50,000, ära och berömmelse meddelar juryn direkt i BBC:s Ten O'Clock News från en middag i Guildhall, London, den 14 oktober.
Vi tippar att följande sex titlar går vidare till korta listan: J, The Bone Clocks, The Narrow Road to the Deep North, How to be Both, To Rise Again at a Decent Hour och The Dog. Det vore väldigt roligt om The Wake och History of the Rain gick vidare. I slutändan kommer det att bli en uppgörelse mellan The Bone Clocks (Mitchell borde ha fått priset tidigare) och The Narrow Road to the Deep North (Australien tystar dem som trodde att USA skulle dominera). Skriv gärna vad du tror och hoppas på, eller om du kanske läst någon av böckerna eller författarna.
Ola Wihlke