SKATEBOARDING
I skate for me and my homeboys!
We grind and carve!
Let's skate! We yell that shit, Tina.
We fucking yell it!
We're behind the grocery store, Tina,
shredding this curb and
John Law comes up and is like
Scram! Fuckers! So lame!
And I'm adjusting my beret.
And Tina, my skate Betty, I know you
love me, but I can't
even explain how much
I will skate or die!
THE SITUATION OFTEN REFERRED TO AS POETRY
There is a situation often referred to as poetry. If you don't
understand that, we're at an impasse. Other situations are
possible, including stock car racing, but most of these
events go undetected. It's similar to alien life forms or
endless rope tricks. Even special cowboys can't lasso
every single lamb in the universe. Even house cats
look stupid in the bathroom mirror. For me, and my family,
we have numerous sweatshirts and various family traditions.
One of these is to exhaust ourselves in our sleep so
that when we awake we are livelier and smarter because
we're so tired. At other times, we dress ourselves in robes
and lounge about the house, whistling softly and jutting
our bellybuttons toward the ceiling. My wife will
bring me ideas about capitalism or whatnot, perhaps
a recipe for veggie burgers. The thought of it all makes
me jumpy with love. The poetry we read to each other
makes us giggle. It's always stuff like "you have a
ginormous, orange band-aid on" and other things like that
that just make you go, whoa!
Peter Davis
© Peter Davis
Ett varmt tack till Peter för att vi fick publicera de här två dikterna, hämtade ur hans tredje och senaste diktsamling, TINA (Bloof Books, 2013). Hans tidigare diktsamlingar heter Hitler's Mustache (Barnwood, 2006) och Poetry! Poetry Poetry! (Bloof Books, 2010).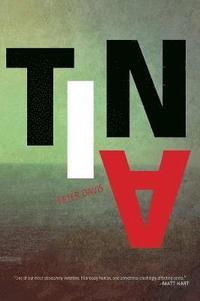 I den senaste diktsamlingen är Tina hans musa, men hon är inte någon upphöjd idealfigur, snarare någon diktjaget vänder sig till både med vardagliga frågor och existentiella grubblerier. Ibland får hon en utskällning. Precis som i de tidigare samlingarna är dikterna omväxlande hysteriskt roliga och tragiska och rörande och filosofiskt skarpsinniga. Jag rekommenderar varmt ett besök på Peters hemsida.
Ola Wihlke