När Knausgård blev intervjuad i Men's Journal nyligen förde intervjuaren en gammal episod på tal. Siri Hustvedt hade undrat i en annan intervju med Knusgård varför det nämndes så väldigt många manliga författare i My Struggle bok 1 och så förbluffande få kvinnliga. Knausgård hade då svarat "No competition". Tillbaka till intervjun i Men's Journal:
– It could be interpreted that you don't read women.

– No. I was reading Maggie Nelson when you came, and I just bought four books by her before we met. She's so much better than anything I've read for a long, long time.
Knausgård mindes för övrigt inte vad han menade med "No competition", men en gissning är att han menade att litteraturen inte är en tävling, som går ut på att räkna antalet omnämnanden av manliga respektive kvinnliga författare. Hursomhelst, det här är en liten ofullständig guide till böcker av Maggie Nelson:
The Argonauts (Graywolf Press) var en av förra årets mest omskrivna och kritikerrosade böcker, trots att den inte så lätt låter sig genrebestämmas. Nelson jämförs med såvål Susan Sontag som Roland Barthes. Ur förlagets beskrivning:
"Maggie Nelson's The Argonauts is a genre-bending memoir, a work of 'autotheory' offering fresh, fierce, and timely thinking about desire, identity, and the limitations and possibilities of love and language. At its center is a romance: the story of the author's relationship with artist Harry Dodge. This story, which includes the author's account of falling in love with Dodge, who is fluidly gendered, as well as her journey to and through a pregnancy, is an intimate portrayal of the complexities and joys of (queer) family making."
Recension i New York Times. Intervju i Bookworm. Läs utdrag.
The Art of Cruelty – A Reckoning (W.W. Norton) har också hyllats som kulturkritik på högsta nivå, och handlar om hur våld framställs inom konsten.
Recension: "Why Is Contemporary Art Addicted to Violence?" Intervju i Bookworm.
Sent år 2004 skulle Maggie Nelsons bok Jane: A Murder komma ut, en egensinnig bok om en kvinnlig släkting till Nelson som hade mördats 35 år tidigare. Fallet var olöst, men man trodde att Jane hade fallit offer för en seriemördare i Michigan. Men så en novembereftermiddag ringer Nelsons mor och berättar att fallet åter ska tas upp. En ny misstänkt arresterades och åtalades på basis av matchande DNA:
"The Red Parts is a memoir, an account of a trial, and a provocative essay that interrogates the American obsession with violence and missing white women, and that scrupulously explores the nature of grief, justice, and empathy."
Recension i New York Times. Intervju i Bookslut. Läs ett utdrag.
Och på The Belivers blogg diskuterar Maggi Nelson själbiografiskt skrivande, autoteori och att vara självutlämnande: "When people say things to me like, 'What does it feel like to put such personal material out into the world?,' it isn't a question that lands on a map I'm thinking about. I'm so focused on what experiences would be the best illustrations or ways in to the issues I want to talk about."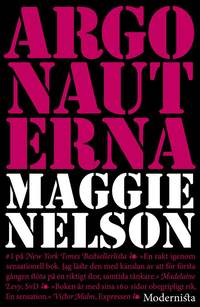 En vänlig läsare gjorde mig uppmärksam på att The Argonauts, Argonauterna, ges ut av Modernista i höst. Riktigt roligt och spännande.
Ola Wihlke