"The god I want to believe in has a voice and sense of humor like Denis Johnson's."
— Jonathan Franzen
Den amerikanske författaren Denis Johnson har avlidit, blott 67 år gammal, till följd av levercancer. Han beskrivs ibland som en författarförfattare, och det kan ligga något i det, samt att han inte nått det erkännande han förtjänar. Men han uppskattas av långt fler än författare, han har vunnit ett National Book Award och hans Jesus' Son (1992) räknas inte bara som hans stora mästerverk, utan även som en modern amerikansk klassiker.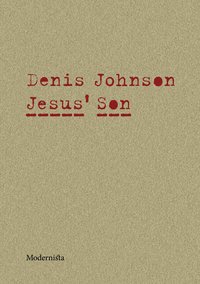 Jesus' Son är en samling länkade berättelser som hålls samman av berättarens, Fuckheads, röst. Fuckhead har, precis som många av de andra karaktärerna missbruksproblem och det är ett återkommande element i Johnsons böcker –– karaktärer som har missbruksproblem eller som är udda och avvikande.
Johnson brottades själv under en längre tid med missbruksproblem och han har en förlåtande, eller åtminstone inte dömande, blick på sina udda och ibland våldsamma karaktärer. Han ansåg att personer som brottades med missbruk ofta var sökare.
Skriver Lincoln Michel i en väldigt fin dödsruna i Playboy:
"Above all, Johnson was a writer for the weirdos. He wrote for and about the drop-outs, the druggies, the punks, the outkasts, and the sinners." Och: "More than any other writer, Johnson had the ability to sum up the wonder, terribleness, and absurdity of life all at once."
Johnson studerade med Raymond Carver som lärare och det märks på sätt och vis. Hans stil är minimalistisk, men den är samtidigt poetisk, febrig och ibland hallicunatorisk. John Updike jämförde Johnsons stil med den unge Hemingways "gleaming economy".
De längre romanerna, som Tree of Smoke och The Laughing Monsters, är kärva och tunga men också våldsamt gripande. Vissa karaktärer, och kanske vissa av böckerna i sig, kan framstå som cyniska, men Johnson var nog snarare en skeptisk och klentrogen humanist. Hans bortgång är en stor förlust för den amerikanska litteraturen.
En novell varje kväll 27: "Emergency" av Denis Johnson
Ola Wihlke